Maybe others noticed this along ago, but I just discovered it and it has kind of made my week.
My Girl
, my favorite childhood movie, was on television the other day. Vada was and still is the coolest hypochondriac/tomboy/poet to ever grace a movie screen. I started wearing a mood ring again because I even though I'm not 7 anymore I still wanna be Vada. 
So as I was creeping on Anna Chlumsky's (Vada) imdb page, trying to find where on earth she has been all these years and I discovered she was on an episode of the first season of 30 Rock! EEE!
Liz Lemler is Vada Sultenfuss
! I can't believe I didn't notice it before.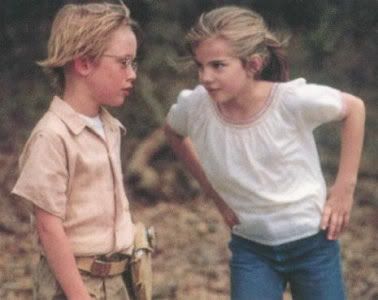 Thomas J. Sennett (Macaulay Culkin) and Vada Sultenfuss

Liz Lemler
(and the trailer for My Girl because it makes me happy)